Comic festival "Manga Comic Con Vietnam 2023" will have the presence of many domestic and international artists.
On May 5, the Organizing Committee of "Manga Comic Con Vietnam 2023" festival (abbreviated as MCC 2023) held an event to announce the launch of the event. MCC 2023 will be held at Sky Expo Vietnam International Convention Center (Quang Trung Software Park, District 12, Ho Chi Minh City) in an exhibition space of 17,000m2, with a capacity of more than 10,000 people at the same time, taking place at the end of July 2023.
"Events like this are thriving in many countries. We want to create a similar playground, so that young people can get closer to the community-oriented event culture", said Mr. To Quoc Nghi, representative of the Organizing Committee.
The festival will feature many local and international artists. In particular, it is notable that there is the presence of actor Noboru Kaneko (Gao Red), who was in the series "5 superhero brothers" released in 2001. This is a series that is considered a fond memory of many Vietnamese audiences.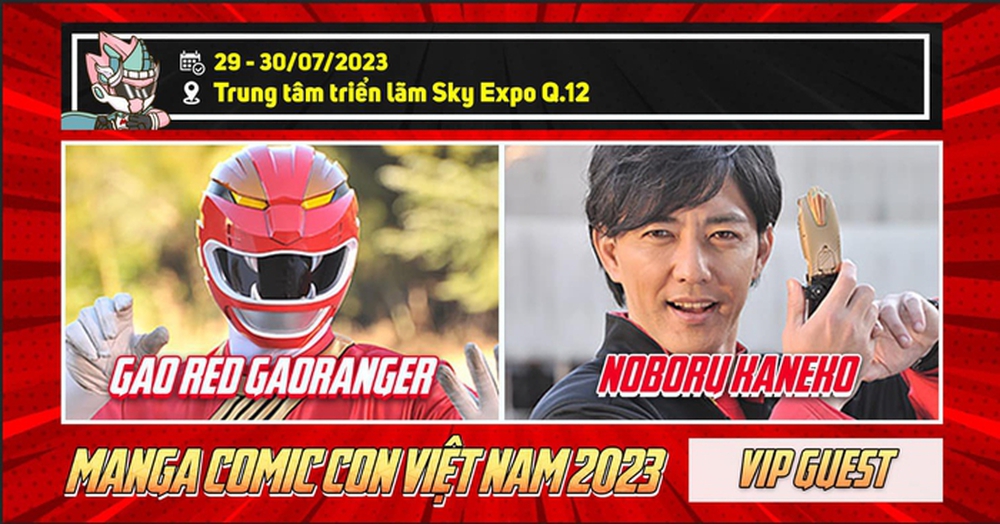 Actor Noboru Kaneko (Gao Red) is one of many international artists who will attend the event.
On social networking accounts Facebook and Twitter, Noboru Kaneko also confirmed this information. "I will go to my favorite Vietnam again this year. This time, Manga Comic Con Vietnam will be held in Ho Chi Minh City from July 29 to 30, 2023. Let's connect Vietnam and Japan more, integrate with the world and have fun together in HCMC. Vietnam is an attractive destination," the actor wrote.
It is known, that at the MCC 2023 event, the famous Japanese actor will have exchange activities and sign autographs for Vietnamese fans. In addition, the actor also has a talk on stage about his acting career.
In addition to actor Noboru Kaneko (Gao Red), director Charlie Nguyen is also a famous name in Vietnam participating in MCC 2023.
Besides his artistic career, Charlie Nguyen is also the founder of Comink Studio – an organization of workshops on comics. He embraces the hope of creating a superhero universe in Vietnam.